Trifecta Pack

$3.99
$10
Get twelve (12) of every Trifecta Pack item. Select regular guns or modded with 999 ammo, max stats, fast reload and more.
Note: You will need to have completed the bounties to equip these items.
Add To Cart
Payment Options
Compatibility: All Platforms • Delivery Method: In-Game
999 Ammunition
Each gun has 999 ammo loaded in the clip and can reload back to 999 or higher.
Fast Delivery Time
With trunk delivery straight to your supply locker get all of your items in minutes.
Unmodded Versions
Don't like modded guns? No problem. You can get standard versions instead.
Silent to Enemies
The Quietness on each has been maxed so they make noise that can't be detected.
Maximum Stats
The Power, Accuracy, Control, Range and Quietness on each gun will be fully maxed.
Fast Reload
Each gun can reload much quicker, great for when you're stuck in combat.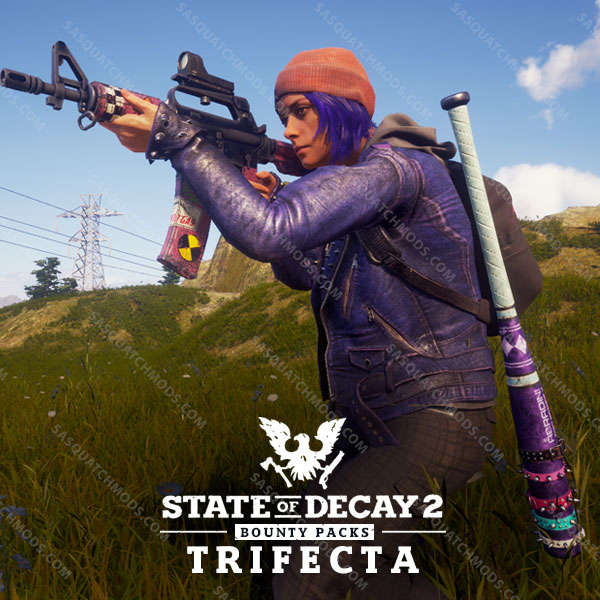 Trifecta Pack Item List
The Trifecta Pack comes with 72 ranged weapons, 36 melee weapons and 36 backpacks, including:
72 Ranged Weapons
check Czech M8 (x12)
check Gold Fever Revolver (x12)
check Golden Honcho AK-47 (x12)
check M4 CQBR Mob Stopper (x12)
check MAC-11 Jaw Breaker (x12)
check MPX Competition SMG (x12)

36 Melee Weapons
check Armorer's Wrench (x12)
check Gilded Kukri (x12)
check Sweet Spot Bat (x12)

36 Backpacks
check Competition Daypack (x12)
check Filigree Daypack (x12)
check Hardy Candy Daypack (x12)

Frequently Asked Questions
Does this work on Xbox?
Yes! This is compatible with Xbox, Steam, the Epic Games Store and the Microsoft Store.
Will I get banned for getting this?
No, Undead Labs has said they don't oppose modding since there is no PvP.
Do the weapons ever break?
Yes, unfortunately ranged and melee weapons can no longer have infinite durability.
Can I get this in Heartland?
Yes, however to get bundles in Heartland it's limited to only Xbox players at this time.
Do the guns reload back to 999?
Yes! You can reload them back up to 999 if you have enough ammo.
How do I get the items?
You will join my game for delivery, the items will be in the trunks and you'll transfer them to your locker by using the right trigger (RT) or T.
Can I change maps and difficulties?
Yes! Your items will stay in your locker until you delete the community.
What do I do after I buy?
After placing an order send a message so we can set up a time for delivery.