Custom Base - $15 $20
Move your base to a custom Trumbull Valley location including Jurassic Junction, Church of the Ascension and more.
Note: You will need to be in Trumbull Valley.
Note: Your supply locker and facilities will stay at your old base.
Note: This needs to be added to your account manually, I will need your information.
Add To Cart
Pay with Gift Card
Compatibility: • Steam / Epic Games: No
Custom Base Location
Your base will now be at a Trumbull Valley location of your choice.
Happy Survivors
Your survivors will congregate in their new home, using nearby chairs and more.
Exclusive Mod
You won't find this mod available anywhere else, it's an original by Sasquatch Mods.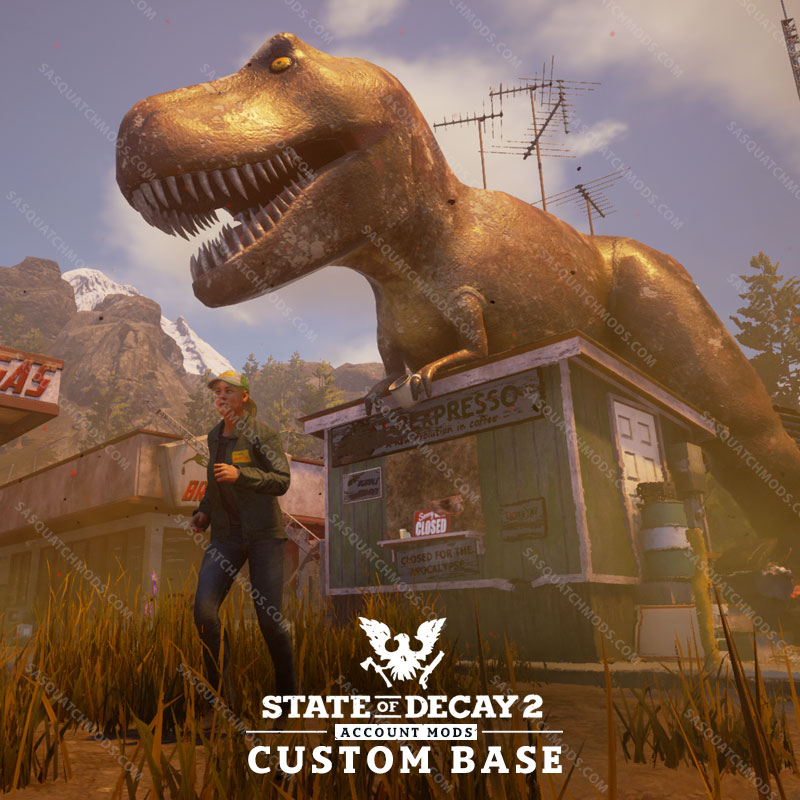 Custom Base Locations
Move your community to one of the many iconic Trumbull Valley locations, including:
Available Locations
check The Alamo
check Church of the Ascension
check Defiled Church
check Fairfield Church
check Fairfield Post Office
check Fork in the Road Diner
check Giant Man Wreckage
check IzzBee's Garage
check Jurassic Junction
check Little Piggy Towing
check Moonshine Barn
check Police Station
check Revolting Donut Shop
check Wilkerson Farm (Destroyed)

Custom Base Gameplay Video
In this video I show what the custom base looks like when used at the hospital in Drucker County.
Watch it on YouTube
Frequently Asked Questions
Does this work on Xbox?
Yes! State of Decay 2 is a play anywhere game so mods work on both Xbox and PC.
Will I get banned for getting this?
No, Undead Labs has said they don't oppose modding since there is no PvP.
Does this work with Steam or the Epic Game Store?
No, account mods are only compatible with Xbox and the Microsoft Store.
Can I build facilities?
Yes! Your facilities will be located at your previous base however.
Can I use the parking spots?
The usable parking spots will be located at your previous base.
What do I do after I buy?
After placing an order send a message so we can set up a time for delivery.